Heartwarming Video Reveals Conversation Between Cristiano Ronaldo and Tyson Fury in Riyadh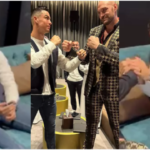 At the prestigious Champions Gala held in Riyadh, Saudi Arabia, Tyson Fury and Cristiano Ronaldo had an intriguing encounter. The self-proclaimed Gypsy King, set to face former UFC heavyweight champion Francis Ngannou in a historic 10-round crossover bout known as the 'Battle of the Baddest,' expressed his deep admiration for Ronaldo.
The Gala, hosted at the opulent St Regis Hotel, saw an assembly of renowned global stars, including Eminem, Mike Tyson, Manny Pacquiao, and Oleksandr Usyk. Cristiano Ronaldo graced the red carpet, engaging with notable figures like Tommy Fury before sharing a moment with his elder brother.
In a conversation with the five-time Ballon d'Or winner, Fury lauded Ronaldo as the "greatest footballer that has ever lived." He emphasized his genuine admiration, reminiscing about Ronaldo's performances at Manchester United and Real Madrid.
Video:
❤️👏🏻🥊⚽️ pic.twitter.com/gtv1TQF8YE

— TURKI ALALSHIKH (@Turki_alalshikh) October 27, 2023
The conversation also touched upon Ronaldo's return to Manchester United, where Fury once offered his insights. He considered the presence of a superstar like Ronaldo and its impact on the team dynamics, acknowledging the potential for young talents to be overshadowed.
During the Gala, Fury also crossed paths with his forthcoming opponent, Oleksandr Usyk, confirming their scheduled bout in December. Fury emphasized that Usyk's contractual commitment leaves him with no alternative but to step into the ring.
This event brought together a diverse array of sporting icons and celebrities, showcasing the intriguing intersections of different spheres of talent and influence.