Neymar's Dazzling Transformation: Unveiling a Bold New Look Post Deregistration by Al Hilal
Neymar, renowned not just for his prowess on the football field but also for his ever-evolving hairstyles akin to the likes of David Beckham, has embarked on a bold transformation – embracing the bald look.
Neymar Jr New look
The Brazilian football superstar finds himself in the midst of rehabilitation in his homeland, following a severe anterior cruciate ligament injury sustained during international play in October. This setback occurred amidst a series of significant life events, including the birth of his second child earlier in the same month. Unveiling a newly shorn head, Neymar surprised his staggering 216 million Instagram followers, showcasing a departure from his familiar image.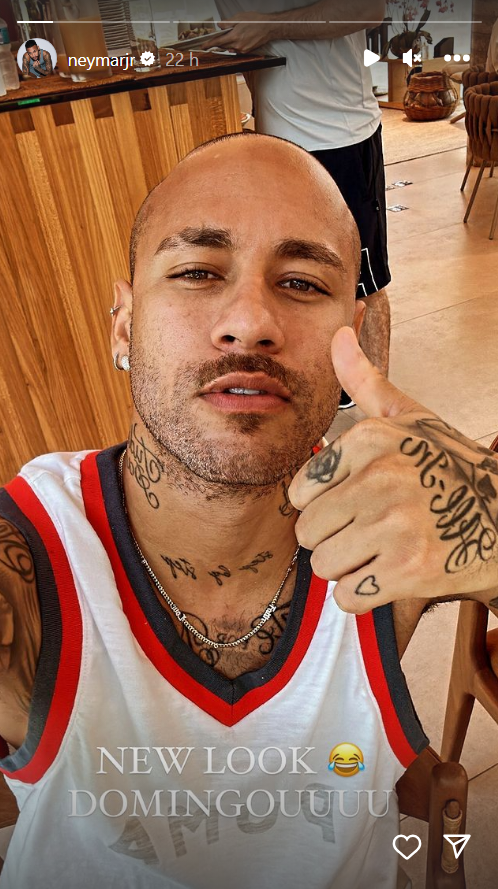 Neymar Jr career
Having traversed prominent football clubs such as Santos, Barcelona, and Paris Saint Germain (PSG), Neymar holds the distinction of being the most expensive footballer of all time, courtesy of his £200 million move to PSG in 2017. Despite the hefty price tag, his journey took an unexpected turn as he departed PSG for the Saudi Pro League, joining Al Hilal in the summer for a reported £86 million – a record-breaking fee for the league.
However, the trajectory of Neymar's career was abruptly altered when, at the age of 31, he made a mere five appearances for Al Hilal before succumbing to a devastating anterior cruciate ligament tear while representing Brazil in a 2026 World Cup qualifier against Uruguay. This unfortunate turn of events rendered Neymar certain to miss the remainder of the season, placing Al Hilal, leaders in the Saudi Pro League, in a precarious situation due to constraints on foreign players.
In response to the challenging circumstances, manager Jorge Jesus and the club's leadership took decisive action by deregistering Neymar for the remainder of the campaign. This strategic move aimed to create space for the recruitment of a foreign left-back during the upcoming winter transfer market, mitigating the impact of Neymar's absence on the team's dynamics.
Neymar Jr transfer
Al Hilal had already made significant waves in the summer transfer window, splurging an estimated £307 million, a financial endeavor surpassed only by Chelsea among all global football clubs. This substantial investment signaled the club's ambitious pursuit of talent and success on the field. The infusion of foreign players, including the Brazilian duo Michael and Malcom, Morocco's top goalkeeper Yassine Bounou, former Chelsea stalwart Kalidou Koulibaly, Ruben Neves, Sergej Milinkovic-Savic, and former Fulham player Aleksandar Mitrovic, highlighted Al Hilal's commitment to assembling a formidable squad.
Neymar Jr injury
As Neymar faces an extended period of recovery, Al Hilal's strategic decision to navigate the restrictions on foreign players underscores the intricate balance clubs must maintain between talent acquisition, financial prudence, and adhering to league regulations. The implications of Neymar's absence extend beyond the individual player, impacting team dynamics and necessitating strategic adjustments to sustain their leadership in the Saudi Pro League.
In the ever-evolving landscape of professional football, where both triumphs and setbacks shape the narratives of players and clubs alike, Neymar's journey with Al Hilal unfolds as a compelling chapter, marked not only by on-field exploits but also by unforeseen challenges and strategic maneuvering off the pitch. As fans eagerly anticipate Neymar's return to action, the dynamics of Al Hilal's season continue to be shaped by the interplay of talent, strategy, and the unpredictable nature of the beautiful game.